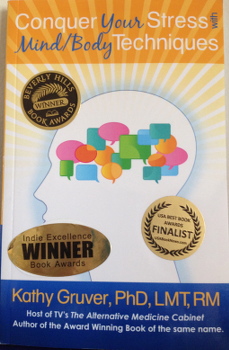 Its a very rainy Monday morning here, and we've got a pretty sick little one in the house. Saturday night Little A woke up with a fever and yesterday she was a mess. She tends to spike crazy-ass temperatures and she was absolutely sizzling. What freaked me out is she was complaining her neck hurt! Fortunately, the doctor said it is NOT meningitis, and that many viruses can be accompanied by neck pain. Who knew? In the middle of the night last night her fever finally broke, but I am going to be at home with her today.
If you are feeling a bit stressed about another week ahead of you, perhaps this book will be of interest.
I was sent
Conquer Your Stress With Mind/Body Techniques
by Kathy Gruver to review. Gruver is the host of
The Alternative Medicine Cabinet
.
The book starts with an explanation of why she wrote the book and then some background and history on mind/body medicine. Next, there are sections that give a brief explanation of various mind/body techniques.
Honestly, I don't have much to say about this book. I can't say I really learned all that much. I don't think it's target audience is health care providers. The very simple, brief explanations of the various therapeutic techniques are better suited for individuals with little prior knowledge about them who are curious to learn more or are looking for which one might be appropriate for them. The beginning of the book that discusses mind/body medicine, in general, is definitely the most interesting, and she has a clear, engaging writing style. If you want an introduction to the concept of mind/body techniques that can be helpful for managing stress, this book may be useful.