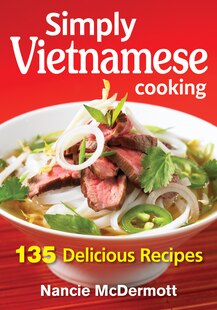 I consider myself a foodie, albeit not a traditional one. I am definitely more of a health foodie, but even if I wasn't concerned with nutrition, I have never been a big fan of classic French cuisine or fussy stuff. I find ethnic food so much more interesting and my favorite cuisines have always been Asian. You name it, Chinese, Indian, Thai, Japanese, Vietnamese, I love it all!
Admittedly, I haven't tried to cook much Vietnamese fare at home, so I was happy to review Nancie McDermott's book,
Simply Vietnamese Cuisine
.
Vietnamese cooking utilizes many of the flavours, herbs and spices I love like cilantro, star anise, fish sauce, ginger, tamarind, coconut, etc. If you want to cook Vietnamese food, your best bet is to stock your pantry with the basics first. The book has a glossary at the back that describes many of the ingredients and includes online resources where you can buy them should you not be able to find them locally.
McDermott divides the book into the following chapters:
Appetizers and snacks
Soups
Chicken and eggs
Beef and Pork
Fish and Shellfish
Salads, pickles and vegetables
Rice
Noodles
Sweets and drinks
Sauces and other basic recipes
Now there are plenty of healthy and vegetarian recipes, but beware that traditional Vietnamese cooking uses a lot of animal products and sugar. There are a whole lot that I will never make because they use pork and shellfish, which Adam doesn't eat, or contain a ton of sugar. In particular, there are a whole lot of recipes using caramel sauce on fish and meat. While I like sweet/savoury dishes, just the idea of this makes me want to barf.
Virtually every dish contains some sugar, but for many you can just skip it altogether as its only a small amount, or you can replace it with a healthier sweetener. Pork can also be replaced with chicken.
I decided to attempt a recipe with my own modifications to suit our diet, and chose the Chicken and Pork pate, and Everyday Pickled Carrots to make Banh Mi inspired wraps.
Instead of ground pork and chicken livers, I used just ground chicken for the pate, and instead of just carrots, I used rainbow slaw, and cucumber for the pickle.
It wasn't possible to get the pate as creamy as it would have been with the chicken livers, but the flavours were amazing, Adam and I both loved it. The fish sauce and star anise create such a unique taste.
Vietnamese soups are amazing, so I think once the weather cools, I will try one of those recipes. A lot of the egg recipes look great too. Usually when I make omelets, I add salsa and cheese, but some of her recipes sound delicious.
The book has photos of some recipes, but what I really like is all the tips and information McDermott includes. She also encourages you to try the recipes even if you aren't able to get a particular ingredient.
If you are interested in learning about Vietnamese cuisine, and giving it a try yourself, this book will give you very straightforward directions and info to do so. Or, if you are like me, and not tied to authenticity, you can simply use it as inspiration for your own creations.
Disclosure: The publisher sent me this book for free, but all opinions on this blog are my own.