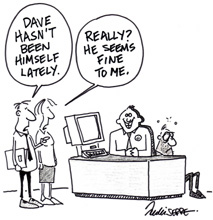 Image Source
There is still a lot of stigma surrounding mental illness, and this stigma often prevents people from getting the help they need.
Recent research, however, has found that this stigma may be declining and Americans are now more knowledgeable than ever about the prevalence of depression and its treatability.
Today, October 11th, is National Depression Screening Day. More than 1,000 sites across the U.S. are offering free, anonymous assessments for various mental health conditions including depression, anxiety, and PTSD To find a site, or to do the screening online, please visit:
www.HelpYourselfHelpOthers.org

.
Here is the official press release:
Mental Health Stigma Declining
Public Opinion Survey Reveals the Vast Majority Would Consult a Doctor if Experiencing Symptoms of Depression
National Depression Screening Day

®

Links Individuals to Treatment, Saves Lives
October 9, 2012 (Boston, MA)
- Most Americans are familiar with depression and do not attach a stigma to seeking treatment for it from a therapist. In fact, most Americans believe that depression is treatable and go so far as to say it would not affect their vote in a presidential election if they heard that a candidate had consulted a therapist for depression.
The public opinion poll findings released this month by Screening for Mental Health, Inc., a nonprofit provider of mental health screening programs, come as thousands of community-based organizations, military installations and colleges prepare to host National Depression Screening Day events on Thursday, October 11. Screening locations and anonymous online screenings are available at
www.HelpYourselfHelpOthers.org
.
"These findings tell us that our efforts to reduce stigma and increase the public's knowledge of depression through events like National Depression Screening Day are having an effect," said

Douglas G. Jacobs, M.D., associate clinical professor of psychiatry at Harvard Medical School and founder of Screening for Mental Health, Inc. "The goal of the program is to educate people on the symptoms of depression, assess their risk for mood and anxiety disorders and connect those in need with local treatment services.

"
The telephone poll conducted by Anderson Robbins Research surveyed 1,021 American adults between September 15 and 20 and sought to evaluate perceptions and knowledge of depression and mental health.
Other key findings include:
·
Half (53%) of Americans personally know someone who has been treated for depression;
·
Nearly three-quarters (72%) say they'd be likely to speak with a health care provider if they thought they were experiencing signs of depression;
·
Two-thirds (67%) believe depression can be successfully treated most of the time;
·
Two-thirds (65%) say learning a presidential candidate had sought treatment for depression would have no impact on their vote. There were no significant differences with regard to political party identification;
·
Those who know people with depression are more likely than others to seek help themselves, (76%, compared to 66% of those who don't know anyone with depression), and are more optimistic about the frequency with which depression can be successfully treated.
To continue to educate members of the public on the signs and symptoms of depression and suicide, and the correct course of action to take, National Depression Screening Day will take place on October 11. As part of this 22

nd

annual event, community organizations, colleges and military installations throughout the nation will offer free, anonymous mental health screenings. This event helps individuals learn the signs and symptoms of depression and suicide;
educates friends and family members on what to do if a loved one is at risk; and gives individuals the opportunity to talk to a mental health professional about their own or a loved one's situation.
Screening for Mental Health Inc. (SMH) is the non-profit organization that first introduced the concept of large-scale mental health screenings with its flagship program, National Depression Screening Day, in 1991. SMH programs include both in-person and online programs for depression, bipolar disorder, generalized anxiety disorder, posttraumatic stress disorder, eating disorders, alcohol problems, and suicide prevention. SMH programs have been used by hospitals, mental health centers, social service agencies, government agencies, older adult facilities, primary care clinicians, colleges, secondary schools, corporations and military installations reaching individuals ranging from adolescents to older adults.
Here is some additional information about depression in the United States:
1.
How many Americans are estimated to suffer from depression?
Approximately 20.9 million American adults, or about 9.5 percent of the U.S. population age 18 and older in a given year, have a mood disorder (the most common mood disorders are major depression and bipolar disorder). Major depressive disorder affects approximately 14.8 million American adults, or about 6.7 percent of the U.S. population age 18 and older in a given year. National Institute of Mental Health (NIMH).

2. What proportion of Americans with depression seek treatment? Studies have varied on this over the years but generally only about half of people seek treatment.

3. If stigma has declined, what factors usually function as barriers to individuals seeking treatment?
·
People don't know where to get help
·
Cost of mental health care
·
Not believing that mental health treatment will work
·
Taking time off work for treatment
·
Poor access (rural areas)
·
Although stigma has declined it is definitely still an issue for some

4. What groups are particularly vulnerable to depression?
·
persons 45-64 years of age
·
blacks, Hispanics, non-Hispanic persons of other races or multiple races
·
persons with less than a high school education
·
those previously married
·
individuals unable to work or unemployed
·
persons without health insurance coverage

5. Are there areas within the U.S. where it is more difficult to get treatment for depression?
Rural areas where there are fewer treatment facilities.