Yesterday was my parents' 45th wedding anniversary!
Yep, on July 16th, 1967 they got married in New York.
They came to visit this past weekend and to celebrate, we went for dinner at a new hot spot in our own neighbourhood:
Actinolite Restaurant
. Great place! I had an amazing endive, citrus and avocado salad, topped with black quinoa and then white fish over lentils. Adam had a watermelon salad, my mom the bocconcini salad, and my dad the shrimp appetizer to start. Adam and my mom also got the fish for a main, and my dad got the skirt steak. We all loved our food.
My parents took Big A back to Kingston with them the next day. For the first time ever, she is staying there for a whole week by herself! My parents enrolled her in
Queen's Sports Camp
, which I used to go to as a kid. I remember absolutely loving it, inspite of not being any sort of athlete, so I'm hoping she loves it just as much.
In 1970 my brother was born in New Haven, Connecticut while my father completed his PhD at Yale.
In 1974 I was born in Kingston, Ontario.
Because of my dual status, Adam and I had to drive to Buffalo, NY yesterday to go to the social security office...or so we thought. It turned out to be a huge waste of time...it's a long story which I won't go into right now. But I wasn't that upset - I got to spend the day with my husband, I got to see Buffalo, New York (okay it's no Paris), and I got to go to Target. Man, I love Target!!
We will soon have Target here in Canada in 2013 (for those of you in West-End Toronto, we appear to be getting one at St. Clair and Keele!!), but that's a long ways off, and I am not certain they will carry the same stuff at the ones here (much like the Whole Foods here don't carry all the stuff that they have at the U.S. stores). So I begged Adam to let me go before we headed home. After stopping to fill up on gas (almost 1/2 the price of what we pay in Canada!), we headed to Target. I gotta say, having a GPS is fantastic, we never would have found it without it.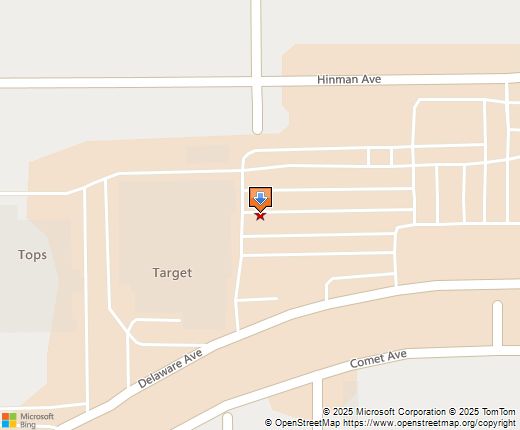 I purposely avoided the women's and children's clothes sections or we would have been there forever (and my very tolerant husband's patience would have run out), but we picked up a few things including a Bubble Guppies DVD and Wiggles CD for Little A. The poor thing is feeling quite left out because Big A got to go stay with my parents. Although she is loving having all of our attention to herself, she doesn't understand why she couldn't go too, especially because she adores my parents.
On Saturday she was showering my dad with affection when he tried to excuse himself to go to the bathroom. She desperately wanted to come with him, but he explained that she couldn't, that he wanted to go by himself. She came into the kitchen, lip wavering, looking incredibly dejected. I asked her what was wrong and she burst into tears saying, "Baba wouldn't let me come to the bathroom with him." Her heart was absolutely broken, she is such a sensitive soul. Trying not to laugh, my mom and I tried to explain to her that people like privacy when they go to the bathroom and that this didn't mean Baba doesn't love her. As absurd as it was, it was also quite sweet. She gets her feelings hurt so easily though, it worries me. Girls can be so cruel to each other, I can only imagine how she will handle it because it only gets worse as girls get older. So anyways, Adam and I thought a new DVD (which she'd been begging us for for weeks) and CD might make her feel a bit better.
I don't feel that bad for her though, after having Adam and I all to herself for a few hours on Sunday she started singing, "I'm the queen of the castle!" Unfortunately, Big A called from Kingston on Monday morning telling us excitedly about everything they'd done so far, and I think that, combined with having to go to daycare all by herself, made her feel a little left out. But she has plenty to look forward to this week. My mother-in-law is taking her for the day on Wednesday, and Adam's cousin is taking her to
Canada's Wonderland
on Thursday.
What Adam and I can't get over is how much EASIER it is to have two parents and only one child. After all, we can hardly remember what life was like before Little A came around.
We are signing up both girls for summer skating lessons. This must be a sign that I'm really more Canadian than American. Of course, there is really no doubt about that. I've never lived or worked in the U.S. and I don't like apple pie. Or baseball. But then again, I don't like poutine or hockey either. I definitely relate to "New York Jewish" culture more than "Toronto Jewish" culture though, but that's because virtually my entire family is "New York Jewish". Anyways, realizing we've neglected to teach the girls to skate, we felt it would be ideal to get them started in the summer since they are already too busy with other activities during the school year. Frankly I love the idea of sitting in a cold ice rink in the middle of summer! In fact, I'm thinking if they like it, skating could become a year-round family activity. Instead of suffering through park visits in the heat and humidity, we can strap on our skates and go to an indoor ice rink in July! The
Metro Toronto Skating Academy
offers group and private lessons all summer long for people of all ages. I could probably stand to gain from a few lessons myself too. Skating in summer, that's pretty Canadian eh?