Because we here in Canada celebrate Thanksgiving in October, one can only conclude that we've appropriated Black Friday solely for commercial reasons. As if there was ever any other reason for it? While it may make no sense to me, I won't complain that we have it now too as I am all about a good deal.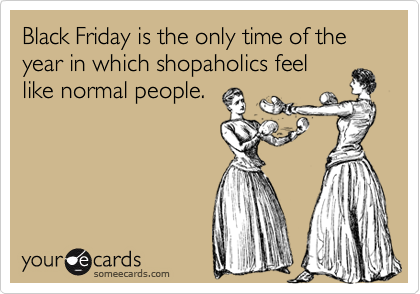 Fortunately, we don't get as loonie here as folks do in the U.S....you don't usually see shopping-related violence here. I've had enough chaos for a while anyways. Last night was the girls' daycare's annual fundraiser and it is always, crazy and exhausting. I am (by choice!) no longer on the fundraising subcommittee (I am now the communications person for the daycare), but last night was still nuts. I helped with the basket raffle we have.
The entertainment this year was a big hit:
DJ Trevor
, who the kids absolutely adore.
Tonight I have a Christmas party for one of the fertility clinics I work with, which should be fun. I work tomorrow and the girls have their usual weekend activities. Sunday I have clients too, and both girls have a playdate, so its a busy one. I also can't believe its the last weekend in November! I guess the countdown to the holidays really begins!! Have a happy, healthy one and be careful at the malls!!