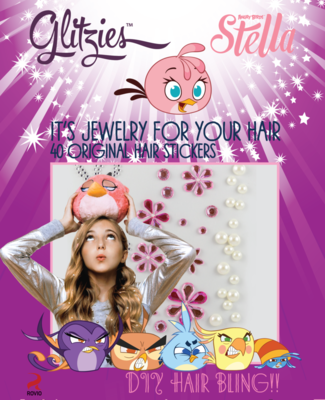 My girls love hair fashion. For Little A, its all about clips, hair bands, etc. For Big A, who rarely ever brushes her hair, and usually is quite happy having it tangled up into a rats nest, its more about the colour. She has been begging to die her hair for ages (bleach the ends, specifically, which I oppose simply because of how harmful bleaching is). But apparently ALL the girls are colouring their hair already. Ugh!
Fortunately, the girls were both thrilled with the products we were sent from
Glitzies
. Glitzies are DIY hair stickers that come in a variety of colours and styles.
Little A was so excited about them, she wanted to try them immediately, which unfortunately led to a fight because she was just about to take a bath. I was finally able to convince her to wait a few days and wear them to the birthday party she was attending.
This little 6-year-old was easily able to apply them herself and was absolutely delighted with the results. She loves that they stay on so well. At the party, she got non-stop compliments from the other kids and parents, who were very intrigued by the Glitzies and wanted to know what they were and where they could get some. You can purchase them online!
Big A received a more mature design with leopard print hearts, but she's decided to save hers for her most anticipated upcoming event: the upper grades at her school are going to be performing at Massey Hall!
To me, this temporary hair decorating solution is a much better option than hair dye, and for how, Big A has stopped nagging me for the dye job. Definitely a win-win in my book!
Disclosure: We were sent complimentary samples to try, but all opinions on this blog are our own.